Better town centre neighbourhoods: Queen Street, Dumfries
When thinking about improving town centre neighbourhoods, a vital but often overlooked element in the design process is involving those who live, work and travel through an area right from the start. Sustrans Scotland, through their Street Design programme, worked with Dumfries and Galloway Council's transport and housing regeneration functions over a five year period to transform a once neglected part of Dumfries town centre into a more liveable, inclusive and active travel friendly neighbourhood - undertaken through a collaborative design process.
"The buildings were generally run down and a lot of people had given up because of vandalism and people stealing their plants in the past, had given up trying to make the place look nice." (local resident)
Dumfries Neighbourhood Street Design Project centred on an area of Victorian sandstone housing and businesses near the centre of Dumfries. The neighbourhood was effectively a residential 'island', isolated by two major roads. The project built on a local regeneration programme by looking at opportunities to improve the physical and social wellbeing of the area. Longstanding concerns over traffic movement and the potential to improve the physical feel, sociability and distinctiveness of the neighbourhood have also been addressed and incorporated into a journey of co-design and co-delivery with the local community.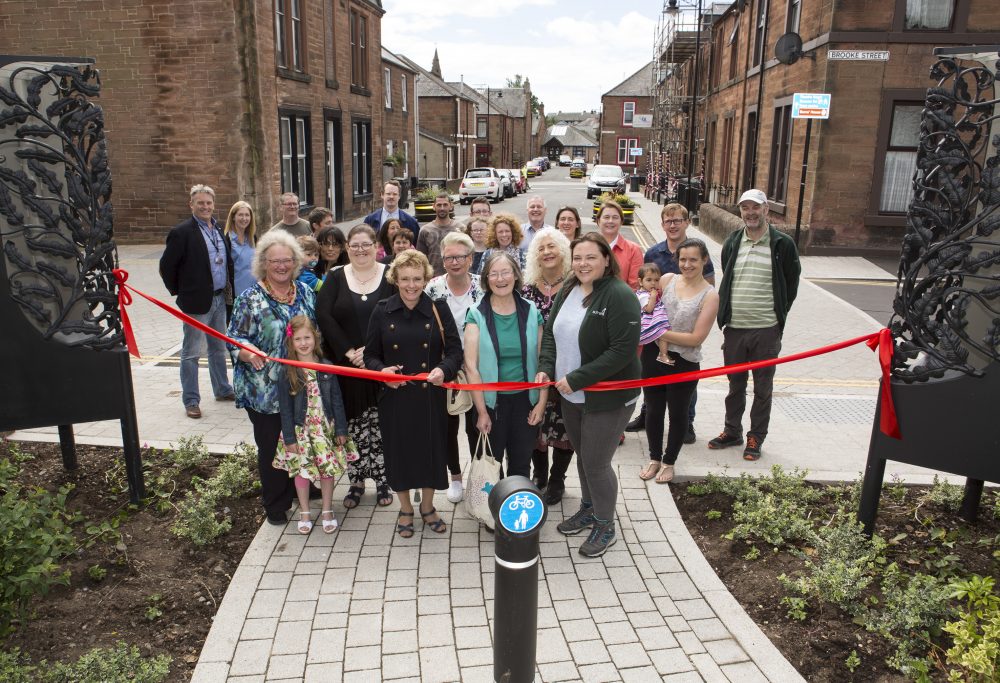 What was the result? What started out as a street design project ended up delivering a lot more:
An empowered community: residents formed a constituted group during the project and now continue to improve their neighbourhood.
An accessible neighbourhood: crossing the road is easier and safer for people with reduced mobility.
A 20mph neighbourhood: walking and cycling is prioritised over vehicle movements.
A distinctive neighbourhood: lighting, signage and artwork that celebrate the built Victorian heritage of the area.
A greener neighbourhood: on-street planters, trees and new civic space that calms the area.
From analysis of before-and-after data, there were some big changes as a result:
28% reduction in recorded vehicle movements through the neighbourhood.
64% increase in how 'pedestrian friendly' the neighbourhood is.
63% increase in residents agreeing that the neighbourhood has more space to socialise in.
You can find more information about the project on the Sustrans website here and in this brochure together with more information about the Street Design programme. You can also contact Emily Davie at Sustrans: Emily.Davie@sustrans.org.uk.
« Go Back