Visitor management: Kirkwall
Kirkwall has a busy, bustling, historic town centre: no more so than in the summer, when over 140 cruise ships land up to 5,000 people at a time: equivalent to over half the town's population. It's a nice problem to have, of course, but one that needs to be managed to avoid the town centre being overwhelmed – and to make sure that the town gets as much from each cruise as it can, including businesses which might not directly benefit.
Over the last decade, key partners have collaborated closely to make sure that Kirkwall benefits as much as possible from the daily influx of visitors throughout the summer. Local tourism businesses and transport operators, Orkney Islands Council, Kirkwall Business Improvement District (BID), VisitScotland, Historic Environment Scotland, Highlands and Islands Enterprise, Scottish Natural Heritage and cruise companies – all have co-operated to create one of the best cruise destination management operations in the world, with ship-to-shore transport and infrastructure, visitor activities and information for businesses.
Since 2018, collaboration has been through the partnership body Destination Orkney, the local destination management organisation which has also developed a 5 year tourism strategy for the period 2020-25.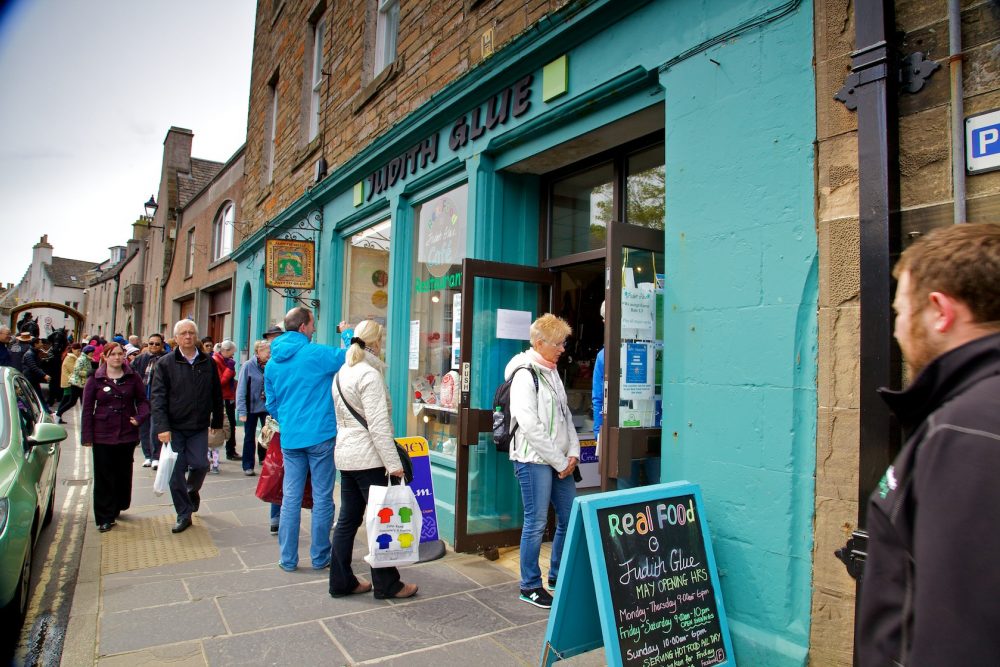 The website Cruise Orkney works as a hub of information for local businesses, the tourism industry and cruise operators. Many of Kirkwall's high street businesses are "cruise-ready": they know what visitors want, and are very active in providing that. New initiatives like the Kirkwall Gift Card, developed by Kirkwall BID, have helped other high street shops who maybe benefited less from the cruise trade. The local authority has been proactive in improving the high street environment by securing investment in historic buildings and the public realm. And VisitScotland are helping to support winter festivals as a way to generate more trade and activity during the quieter winter months (see Arts and Culture section also).
For more information, please contact Christie Hartly, Volume Tourism Development and Management Office, Orkney Islands Council: Christie.Hartley@orkney.gov.uk or 01856 873535 Extension 2532
« Go Back