Deveron Projects, Huntly
Deveron Projects has been active in the rural market town of Huntly, Aberdeenshire since 1995, running lots of projects to bring artists, thinkers and other creatives together with the Huntly community. They have explored a diverse range of project areas, spanning from gender and parenthood to current politics, place-making through walking, traditional industries, food culture and climate change, to name a few.
The Town is the Venue describes the framework in which they work and contribute to the social wellbeing of our town, inspired and influenced by the Aberdeenshire-born father of town planning, Patrick Geddes. Huntly itself becomes studio, gallery and stage for artists of all disciplines from all over the world.
Funded by the Climate Challenge Fund, The Town is the Garden is a long-term project looking at ways to encourage more community food growing, reducing waste, sharing skills and reconnecting with the natural ecosystems of which we and our town are a part. The project engages critically with the interrelated climate crises we are facing and promotes free access to edible plants throughout the town, helping green the streets as part of a push to regenerate the town centre.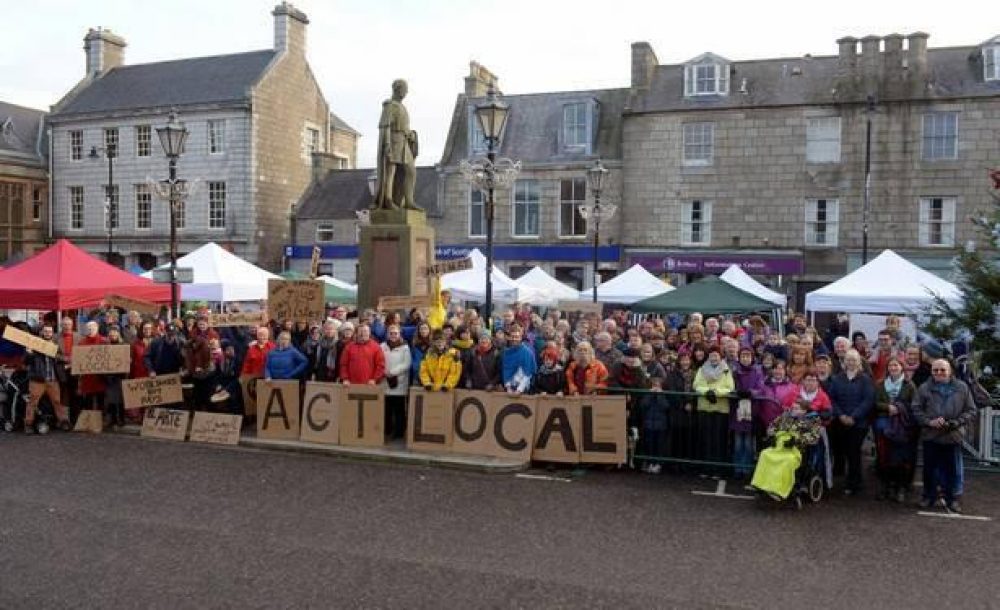 Many towns across the UK are struggling to keep their squares and high streets functioning as centres for shopping, and this can be seen in Huntly with key businesses closing and leaving behind empty premises. In projects over the last few years, the town has been exploring alternatives to traditional retail-based economies. This includes the Town is the Garden Barter Shop, where citizens can swap locally grown produce and preserves for a recipe, skill, or even a story, and vice versa.
For Deveron Projects, creativity and collaboration are essential. You have to approach problems playfully; have the freedom to test out different ideas and develop the solutions that hadn't yet been thought of - whether you're an arts organisation, a town council or a gardener. You might not all agree all of the time, but the conversations that will be stimulated will edge you closer to the ideas that might really change things for the better.
For more information on Huntly, check out the Inspiration section.
« Go Back