Involve people in design and maintenance: Perth and Kinross
Perth and Kinross Council, Living Streets Scotland and the Centre for Inclusive Living Perth and Kinross (CILPK, a user-led disability organisation) have developed a new approach to designing and managing streets with local involvement – which stemmed from the council needing to prioritise the increasing number of requests it received from disabled people to install dropped kerbs, deal with footway obstacles like street furniture, or make other street improvements.
The council approached Living Streets Scotland (acting as facilitator) and CILPK to develop a programme of Community Street Audits. These are guided walks carried out jointly between transport engineers and disabled people. They identify barriers to disabled people using a route-based approach, rather than seeing problems in isolation, and form the basis of a system for prioritising the use of available budgets. A dedicated budget (initially £10,000) was also allocated for physical works needed as a result of the audits, which took place in Aberfeldy, Blairgowrie, Coupar Angus, Crieff, Kinross and Perth.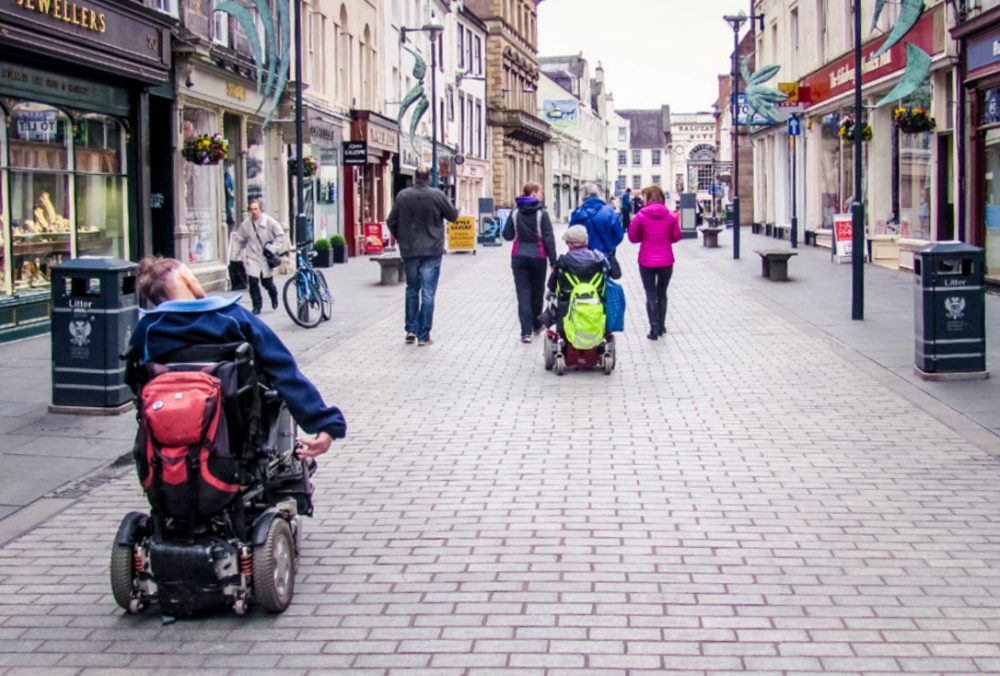 The project resulted in a whole range of positive outcomes, extending way beyond improvements to the routes that were audited, including:
Short-term 'quick wins' like new dropped kerbs, tactile strips, relocation of street furniture, and an A-board guidance note.
Disabled people worked directly with retailers on problem streets to raise awareness of the difficulties that 'A-boards' can cause, which led to a more responsible approach by many local shops.
Training helped professional staff to understand the barriers that disabled people faced, and helped disabled people to understand the practical reasons why streets are designed as they are and constraints that limit scope for change.
A series of short videos produced by CILPK highlighted particular issues for disabled people, which are useful for anywhere in the country.
Disabled people became more confident in spotting and reporting problems, without having to resort to media or political pressure.
Contact with Transport Scotland, who are responsible for the trunk roads that run through a number of local town centres, about safe places to cross these major roads.
The three-way partnership of the local authority, CILPK and Living Streets Scotland was key to success. CILPK was an essential partner as the local organisation for disabled people; and good communications, facilitated by Living Streets Scotland, helped to build trust between the council and disabled people.
Key lessons included:
Manage expectations honestly: be frank about the scope for change.
Establish trust and honesty between key individuals in roads authority and disability group(s).
Involve a wide range of engineering and technical staff: an opportunity to widen professional horizons.
Adopt a route-based approach: e.g. train station to town centre, access to Post Office.
Follow up audits with tangible action on the ground.
Establish a dedicated budget if possible.
Give feedback to participants: share reports and let them know of successes.
More information about the project can be seen in this case study and sample Community Street Audit. CILPK can be contacted directly by email: info@cilpk.org.uk.
Living Streets also work in other parts of Scotland – see Resources section.
« Go Back